This winter, add Lunch or lunch and childcare TO YOUR GROUP LESSONS. A Great Package!
We will take care of your children for either half or the whole day!
Let the ESF and Les Petits Trappeurs nursery take care of everything!
An option designed to make your holidays easier to organise and let you to ski in peace for half or full days, safe in the knowledge your children are having fun!

Following your ski lessons booking, choose one of these options:

Lunch
Lunch + afternoon childcare
These offers only apply to children from 3 to 11 years old BOOKED INTO SKI LESSONS in the morning

Les Petits Trappeurs nursery
will collect or accompany your children from/to the ESF meeting point, give them lunch and, depending on the option you choose, will let them enjoy fun
indoor and outdoor activities
depending on the weather conditions: playing in the snow, sledging, walks, board games...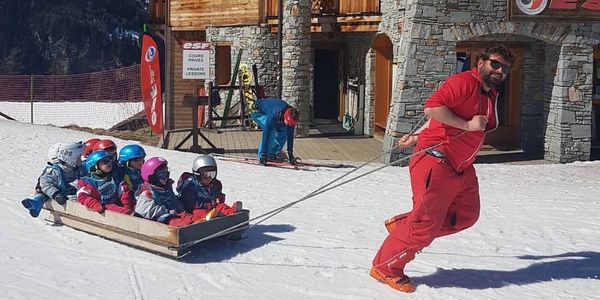 MORE INFOS
For Morning group lessons

Lessons take place from 9.00am to 11.45am, then Les Petits Trappeurs Nursery will pick your children up from ski school and will look after them until 2.30pm (lunch option) or 4.45pm (lunch and afternoon childcare option)
To help everything run smoothly:

Upon arrival in Sainte Foy, please come to the ESF office to:
Collect the numbered bib for the Club Les Petits Trappeurs
Pick-up the free ski pass (only applicable for children under 5)
Then please drop off your child's belongings (spare clothes, dummy, etc.) to Les Petits Trappeurs Nursery.
Your children need to have both their ski lesson and childcare vouchers in their pocket.
After you have booked, the Les Petits Trappeurs nursery will send you the pre-arrival paperwork they require to COMPLETE THE BOOKING.